Hadija Kipoin , 39, shares her journey on being a plus size mother of two, being in an abusive relation and surviving on part-time jobs to fend for her family.
I was married to a possessive and abusive husband who would frequently go through my phonebook and beat me up for minor mistakes. Our relationship was on and off as he would always apologize for mistreating me but the love I had for him made me forgive him all the time. One day in 2006, he mercilessly beat and nearly killed me in the presence of our daughter who was only 4 years old at that time. It was at that moment that I made a decision to call it quits with him. With the help of my mother, I packed up and left his house. I never looked back since.
(Register for MPSK2017 here

)
At the age of 30, when my life was a bit settled, I decided to have a second child. 5 months into my pregnancy, I was hit by a school van as I was taking my daughter to school. For a second everything went blank and I lost my consciousness. I was rushed to Kenyatta National hospital where the doctors confirmed that my baby was fine though I had two broken ribs and a pelvic fracture. I was admitted for one month and went through physiotherapy. The doctors advised for a cesarean section because of my pelvic fracture but on September 11th 2009, I gave birth to my son through normal birth.
(Plus Model Registration 2017 ongoing.Click here to register)
After that accident I realized life is short, and that I had to make the best of it while alive. My kids give me hope in life, and the strength to work even harder and wake up every morning. I can say am the strong woman I am today because of the experience have been through my life.
When I saw Francisca Nyamu of Plus Fabulosity on AM live Show on NTV speaking about plus size modeling, I was so excited that I quickly dialed their office line that she gave while she was on air, enquired about the requirements for being a plus size model. I auditioned with them and qualified for the training programme.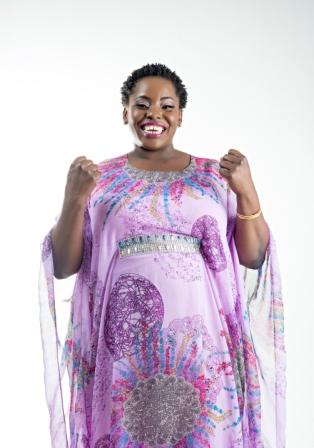 I have always been plus size. People always tried to bring me down over my size. Some would say because I am big  I  can't run, I can't dance , I don't look good, etc. But they are all wrong. Through Plus Fabulosity, I can say that I love my self more, and I have realized that I am not the only one that wants to change the perception that society has over plus size people. I want to show the world that being a plus size is a blessing from God.
I get inspired by Kalekye Mumo, because she is plus woman and she loves and keeps herself beautiful every day.
My goal is to provide a better life for my kids and to teach them to love everyone in the same measure despite their physical attributes. I would also like to promote awareness on self love among the young boys and girls so that they don't grow up feeling inferior for being plus size but to have confidence in them.
Being a single mother has made me a very strong woman. I have come a long way full of ups and downs but I have always been resilient. God has been with me through my life and he listen to our prayers every day, we just have to be patient with him.